At the 31st Annual NJ Ad Club Jersey Awards on Wednesday June 7, 2017, Oxford Communications earned 12 awards including the prestigious Best of Collateral trophy for its innovative Empire Outlets NYC video brochure and three first-place trophies for social media and microsite work for Werther's® Original®.




Oxford Communications, a two-time NJ Ad Club overall Best in Show winner, was also honored with two additional first-place awards, one second-place award and certificates of excellence for creative and collaborative efforts in the areas of video, social media, interactive, brochure design, invitation design and digital media.

The award-winning work featured campaigns for clients such as Werther's® Original®, Atlantic Realty, Outlets at Tejon and Trenton Community A-TEAM – an organization that supports underprivileged artists for which Oxford created a five-part, pro bono video series profiling its members.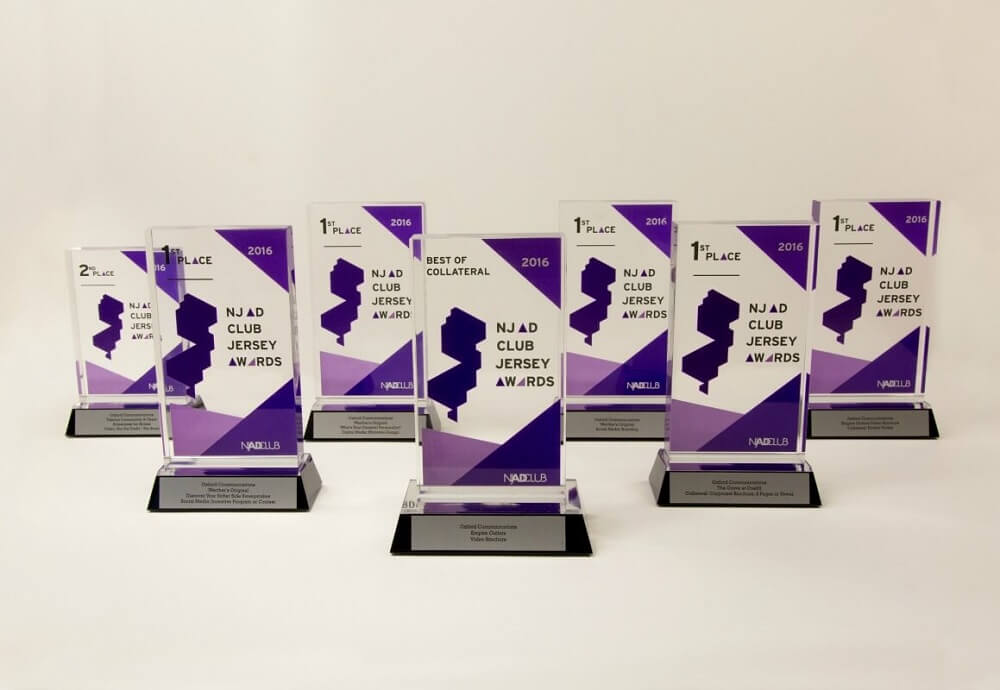 The 2017 roster of achievement includes:

Best of Collateral: Empire Outlets Video Brochure

First Place: Collateral: Pocket Folder, Empire Outlets
First Place: Collateral: Corporate Brochure, 8 Pages or Fewer, Atlantic Realty, The Grove at One92
First Place: Digital Media: Microsite Design, Werther's® Original®, What's Your Caramel Personality?
First Place: Social Media: Incentive Program or Contest, Werther's
®
Original
®
, Discover Your Softer Side Sweepstakes
First Place: Social Media: Branding, Werther's® Original®

Second Place: Video: Not For Profit / Pro Bono, Trenton Community A-TEAM Awareness for Artists