LAMBERTVILLE, N.J., June 10, 2015 –
Oxford Communications earned nine 2014 New Jersey Advertising Club Awards including the prestigious Best of Public Relations trophy for its management of the Outlets at Tejon's Grand Opening in Arvin, California last August.
(Click for full-size photos)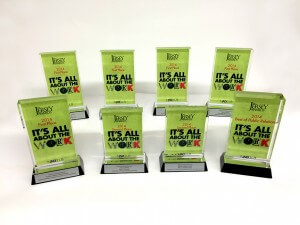 Oxford Communications, a two-time NJ Ad Club overall Best in Show winner, was also honored with an additional five first place awards and two second place awards for creative and collaborative efforts in the areas of social media, packaging design, stationary design and public relations.
The award-winning work featured campaigns for clients such as Werther's® Original®, Smart Electric, Hampton Forge, BNE Real Estate, Atlantic Realty and the @OXmas_Tree – a Twitter-controlled holiday display that garnered international headlines and worldwide social media participation during the 2014 holiday season.
The 2014 roster of achievement includes:
Award:
Category, Client
Best of Public Relations:
Overall, Outlets at Tejon Grand Opening
First Place:
Public Relations / Consumer Product or Service Launch, Outlets at Tejon Grand Opening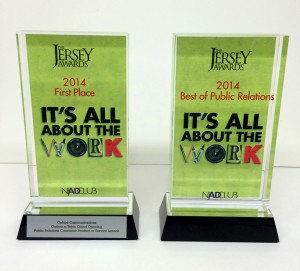 First Place: Social Media / Miscellaneous, The @OXmas_Tree Twitter-controlled Holiday Display

First Place: Direct Marketing Packaging Campaign, Smart Electric Smart Bulb Series Packaging

First Place: Unsold Work, Hampton Forge Packaging Redesign

First Place: Social Media Incentive Program or Contest, Wether's® Original® Unwrap the Magic Sweepstakes


Second Place: Collateral / Identity Station Package, Atlantic Realty Next at Xchange

Second Place: Collateral / All Printed Materials Brochure / 12 Pages or More, BNE Real Estate Water's Edge

Third Place: Product Launch, Atlantic Realty Next at Xchange