The Consumer Electronics Show (CES) 2014 was alive with the "new." For the first time in years, there was renewed energy on the floor, an expectation that around every corner, in almost every booth, you would see something incredible. Some of the trends from last year have become full-on product areas, while other hot items of yesteryear have fallen away into memory.
Here are some trends and product highlights from this year's show that we hope are still thriving by 2015's CES:
Cameras
What could be new in camera technology? More than you'd think …
VOXX International introduced the 360Fly, the portable camera that captures 360-degree imagery on a horizontal plane, and up to 240 degrees on the vertical plane, allowing consumers to capture a full event – whether they are extreme sports enthusiasts (imagine capturing your parkour workout and being able to manipulate the image to see the run from start to finish), business professionals (eliminate the single camera recordings of press conferences and board meetings), or your everyday picture taker (capture the full birthday party or wedding without having to walk around). You can take video and still photography, sync the product to your smartphone or computer to upload to social networking sites directly, and so much more. Get ready to order – they launch this spring!
Wearable Tech
Brands across all sectors have taken a consumer's need to track and share their data to a new, wearable level:
Casio introduced their new watch – the STB Sports Gear 1000 – synced via a free app to the wearer's smartphone. It can control music and volume; track distance, heart rate and workout progress; and other key factors, all in a stylish wrist accessory.
Muse introduced a new headband – BrainScan – with the ability to track and monitor brain performance, showing how stress impacts the body, and giving the wearer insight into how to control anxiety and improve brain function. It looked like a stylish version of Lando's assistant from Empire Strikes Back …
He looks like he needs a little stress relief …
Concept Cars
Established brands and start-up entrepreneurs introduced some amazing car and bike designs:
LITMOTORS introduced the C-1, a new gyroscopic enclosed motorcycle. The bike can reach speeds of more than 100 mph, is entirely electric and utilizes gyroscope technology to keep the two-wheeled bike upright at stoplights and in traffic.
Toyota introduced i-Road, a three-wheeled enclosed trike that is rear wheel steered. Extremely responsive, fossil fuel-free, and on target to launch in 2016, the i-Road is at the top of my, "If I fit, I must have it" list (although those of us over 6'4 may have to keep dreaming).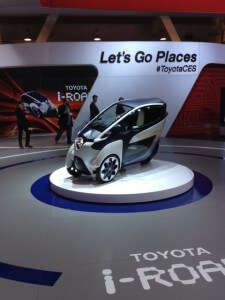 Health Tech
Now more than ever, we saw an integration of new technology to help people live healthier lives, with some surprising new additions for doctors and hospitals:
Ekso Bionics introduced an exoskeleton that helps paraplegics walk. It was an amazing sight to see on the show floor, and the joy on the wearer's face was genuine. The lightweight suit is battery-powered, and can run for about four hours on a charge. Though limited in movement (forward direction only, no reverse, and sharp left/right turns may need assistance), the suit is a significant step forward (some pun intended).
IRCAD introduced us to computer-assisted, minimally invasive surgery via 3D modeling. The technology helps surgeons take a 3D model of the patient for more accurate diagnoses. The display can be manipulated to view all angles of the model in an augmented reality format, which also allows for surgical simulation and planning.
Qualcomm Life introduced Healthy Circles, an SaaS solution that connects physician/medical care teams with patients and caregivers to deliver transitional care/telehealth services. The system works on desktop, iOS and Android platforms, offers proactive monitoring, bi-directional secure messaging, is a home for shared personal health records for providers and care teams, and can act as a patient-monitoring dashboard. This one system gives health systems the ability to reduce hospital readmissions while offering greater patient-centric care.
There was plenty more to see, from televisions that are curved to simulate 3D viewing by mirroring the shape of your eyeball, to advances in gaming (motion sensor control sticks), tech convenience (window washing robots and a mood-enhancing bladeless air conditioner), and much more. Many are launching now or in the next few months, so look out for the "new" this year!