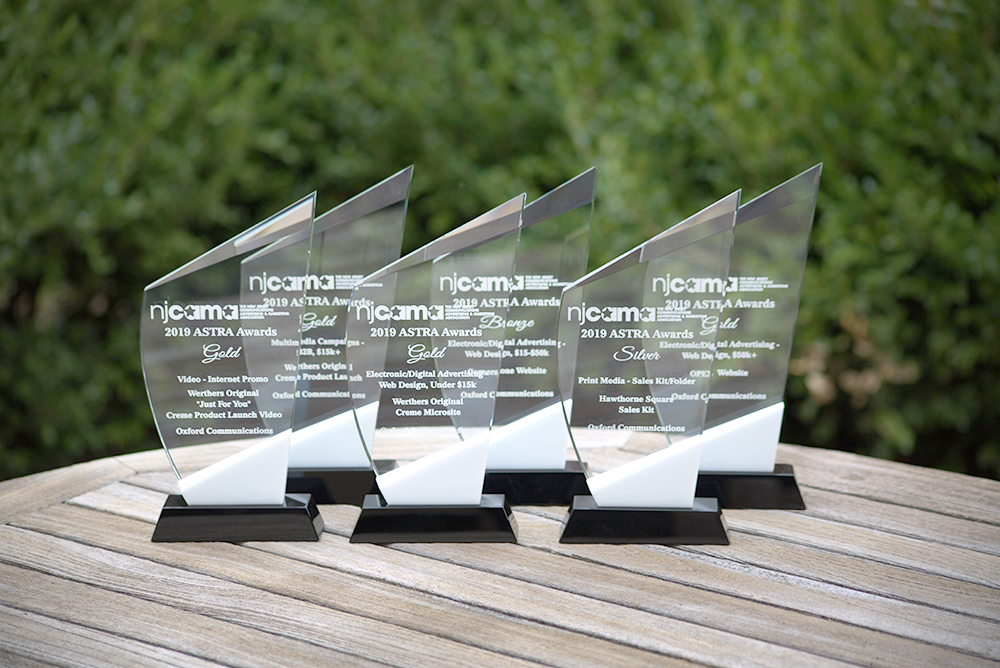 Oxford Communications has brought eight ASTRA awards home to its Music Mountain headquarters, including the coveted Best in Show trophy for their stop-motion video announcing the launch of the Werther's® Original® Crème product line.
The ASTRA Awards are presented annually by the NJ Communications, Advertising and Marketing Association (NJCAMA). Oxford was also honored with five gold awards, one silver award and one bronze award in web design, out of home advertising, print media, video production and social media.

The work featured campaigns for clients including Werther's® Original®, NJM Auto Insurance, Atlantic Realty, OPEX Corporation and the Cornerstone Advisors Asset Management.
Oxford's 2019 awards included:

Best in Show/Judge's Choice: Werther's® Original®, "Just for You" Crème Product Launch Video

Gold Award: Web Design, Under $15K • Werther's® Original®, Crème Microsite
Gold Award: Web Design, $50K+ • OPEX Corporation, Corporate Website
Gold Award: Multimedia Campaign, B2C • Werther's® Original®, Crème Product Launch
Gold Award: Internet Promo • Werther's® Original®, "Just for You" Crème Product Launch Video
Gold Award: Out of Home Advertising, Mass Transit • NJM Auto Insurance, Transit Shelter
Silver Award: Print Media, Sales Kit • Hawthorne Square, Sales Kit
Bronze Award: Web Design, $15K-50K • Cornerstone Advisors Asset Management, Corporate Website